TRUST REGISTRATION
A trust can be created by execution of a trust deed; there are two types of trust. A public trust (charitable trust) is created for the benefit of the general public whereas a private trust is created for the benefit of a particular group of individuals known as the beneficiary.
The first step to register a trust starts with the drafting of a trust deed. The trust deed is to be executed on appropriate non-judicial stamp paper, the rate of stamp duty differs from state to state. The next step is to seek an appointment with the sub-registrar office having jurisdiction based on the registered office of the trust, and the government registration fee is to be paid after that.
If you wish to run an NGO, the most preferred way is to form a public charitable trust. Moreover, the process of Trust registration in India is simple and requires less documentation.
SERVICE INCLUDES
Trust Deed Drafting
Filing of deed and other documents with the sub-registrar office having jurisdiction
Issue of Registration Certificate
PAN Application
TAN Application
DOCUMENTS REQUIRED
For Partners :
Passport size photos of partners
Address proof of partners ( Any one of electricity bill or bank statement or landline bill or mobile bill )
Aadhaar card of partners
PAN card of partners
For Registered Office :
Rent agreement / Electricity bill of your registered office
No objection certificate from the owner
PROCESS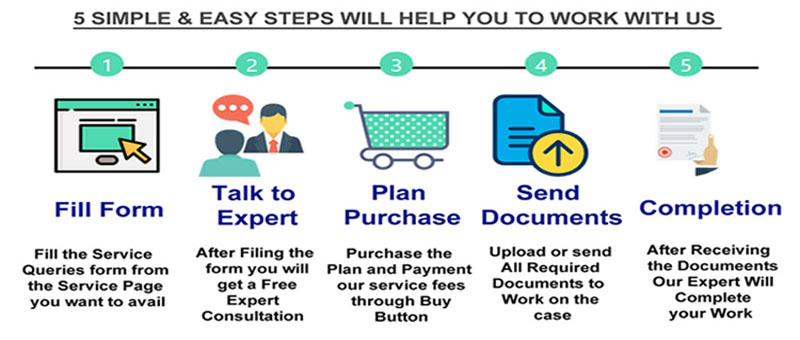 FAQ (Frequently Asked Questions)
The registration of Trust or Trust Deed Registration is a one and same thing and each state have prescribed a distinct profess for trust registration. As such, there is no uniform trust registration form to register a trust. The basic documents to register a trust is the trust deed and KYC documents of its author, trustee and witness of the trust deed.
For trust registration the trust deed does not require any specific certification from any professional consultants for trust registration, however, you may need our services for proper drafting of the trust deed, in obtaining the appointment with the registrar of trusts and operational assistance while being present in the registrar office for registration of trust deed.
It is legitimately not important to have a composed trust deed for the beneficent trust/strict trusts, social orders and organizations. From the practical perspective, however, it is constantly fitting for charitable trusts to have a legitimate enlisted trust deed.
A minimum 2 Trustee required in a Trust.